cFund hydrates with LQ drips!
IOG Anchored VC, cFund, leads the Liqwid Labs seed fundraising round.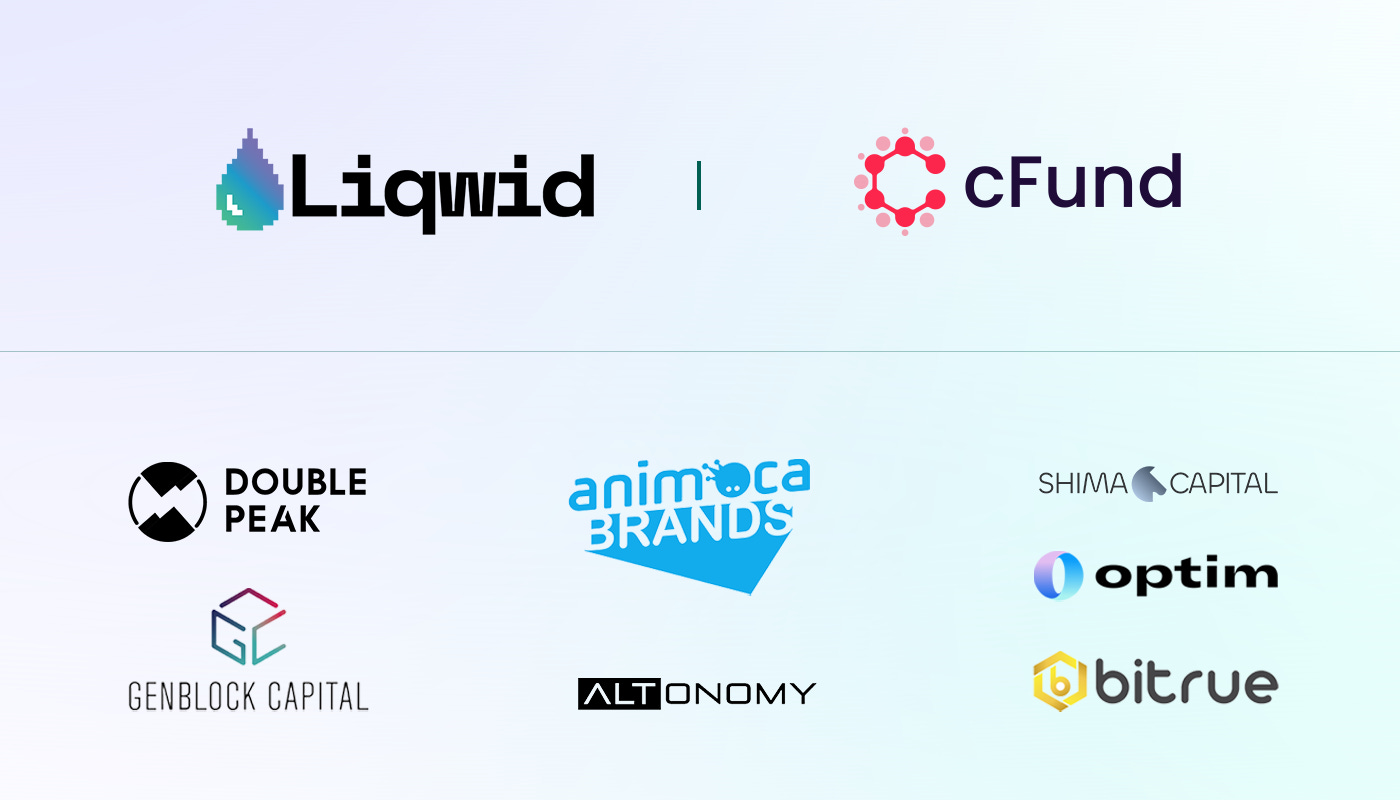 Miami, FL - November 29, 2022 - Liqwid Labs, the decentralized finance (DeFi) startup building the Liqwid algorithmic lending & borrowing protocol is excited to announce we have raised $2.7 million in a seed round led by cFund, an early-stage sector-agnostic venture capital firm in the blockchain industry that is anchored by Cardano founding entity IOG and managed by Wave Financial. Liqwid Labs is a software development firm that contributes to a set of open source libraries and products that enables lending and liquidity provision of cryptocurrency on the Cardano blockchain.
At the core of Liqwid Labs product lineup is our decentralized lending and borrowing market protocol, which operates as a liquidity pool for interest rates. At launch this provides an automated money market for earning interest as a supplier and borrowing Cardano native assets. When a user supplies assets to a Liqwid market, qTokens are tokens minted (burnt upon withdrawal), at the current exchange rate, that represent the amount of crypto assets supplied and the interest earned on those assets. The first asset supported on the protocol will be ADA, the native cryptocurrency on the Cardano blockchain. For the ADA market Liqwid combines Aave pooled lending with Lido liquid staking functionality to produce qADA, a token that captures ADA borrow interest accruals and staking rewards.
We successfully built on a grants funding basis during the bootstrapping and majority of the implementation phase with the goal of allocating as large a protocol equity as possible for Liqwid users. We are greatly appreciative of the early funding source Cardano's community-driven grant system Project Catalyst provided. We are also super thankful to our investors, this capital has allowed us to 3-4x our pace of smart contract engineering and testing, accelerating Liqwid v1 mainnet delivery timeline significantly.
The capital also enables Liqwid Labs to complete development of ancillary tooling for the money markets, develop open source contributions for Cardano DAOs and smart contract engineers, map out our wider vision for DeFi on Cardano, and implement organizational resource frameworks to make this future-state vision real. Building the premier lending and borrowing market protocol on Cardano has always been our ultimate goal, and to accomplish it without reducing the Community Distribution (47.5% of LQ token supply) or the allocation of any other LQ tokens for the community (75% of LQ token supply) is directly aligned with our core team's focus on decentralization.
*Note: The total LQ tokens allocated to investors is taken from the core team & advisor allocation, community allocations are not diluted or impacted by this seed round in any way.
Venture Round Details
Liqwid core team completed a seed round fundraise with crypto funds who invested in LQ governance tokens at a fixed price, with a vesting schedule spread over 24 months linearly and includes a 4 month cliff starting at mainnet launch. The core team's 24 month linear vesting schedule starting at mainnet launch remains unchanged.
Alongside cFund, participating funds included Shima Capital, Animoca Brands, Altonomy, Genblock Capital, Bitrue, Optim DAO and Double Peak.
"Working with leading investment team's like cFund, whose raison d'être, by default is to help scale Cardano's DeFi and application layers was an organic match we feel benefits Liqwid and the entire Cardano ecosystem immensely." - Dewayne Cameron, Chief Executive Officer of Liqwid Labs.
About Liqwid
Liqwid Finance is a non-custodial liquidity protocol for lending and borrowing with liquid staking on Cardano. To borrow, users must first supply an asset supported by the protocol to be used as collateral. When users supply assets to a market they mint qTokens at the prevailing exchange rate.
By minting qTokens, users earn interest through the qToken's exchange rate (to the underlying asset, e.g. qADA - ADA), which increases in value compared to the underlying asset, and are able to use qTokens as collateral.
Completing actions with qTokens are the leading source of interacting with Liqwid markets; when a user supplies assets (i.e. mints qTokens), borrows, repays a borrow, withdraws (i.e. burns qTokens), or liquidates a borrow they will utilize the qToken minting policy.
Cardano is an advanced smart contract blockchain highlighted for its low-cost and secure transactions, environmental sustainability and verifiably secure proof-of-stake system. Liqwid Labs is a Wyoming-based corporation. We are on a mission to grow Cardano's adoption as a credible-neutral financial operating system through modular built DAO and DeFi products. If this mission interests you or the product you are building, please reach out!
https://twitter.com/liqwidfinance
https://discord.com/invite/vZzGHKGz29
https://liqwidfinance.substack.com/
https://github.com/Liqwid-Labs
About cFund
Anchored by IOG/Charles Hoskinson and managed by Wave Financial, an SEC- registered investment advisor with ~$1 billion of AUM, cFund is an early-stage, sector agnostic early-stage venture fund that invests in innovative technology companies building Cardano-based apps, services, and products or deploying on other IOG R&D initiatives. The purpose of the fund is to accelerate adoption/development of the Cardano blockchain and its ecosystem.
cFund's website: https://cfund.vc/
Wave Financial's website: https://wavegp.com/